| | | |
| --- | --- | --- |
| | 78 | |
SHARE ON >>
Change photo background to create memorable picture with new theme
Photo editing request (example): "So it took a trip to Kenya to seal the on-again off-again romance between Prince William and Kate Middleton. The Prince popped the question on the 16th of November 2010. Prince William Arthur Philip Louis and Catherine Middleton (the future queen of England!) will wed some time in the year 2011. While a few engagement photos have surfaced over the Internet, there is nothing in them that says 'Kenya'. Here's a graceful photo of the couple. Would you add a nice Kenyan theme to the picture (a nice sunset scene?). Let's have two photographs — one of them should be a close-up sort of shot, and the other one a bit distant..."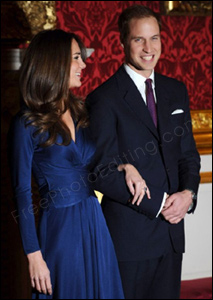 Prince William and Kate Middleton - November 16, 2010
Before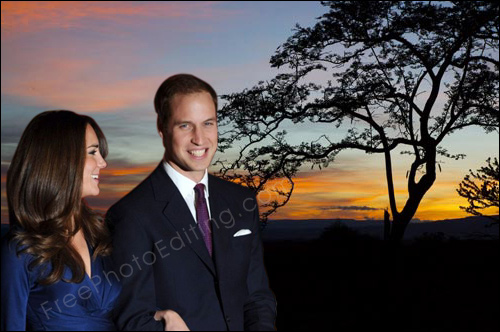 Magic moment in Kenya — Prince William pops the question
After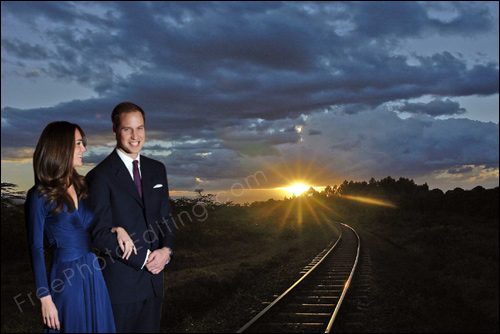 Here's wishing them a happy future together...
Larger view?
After
| | | |
| --- | --- | --- |
| | 78 | |
SHARE ON >>

KATE MIDDLETON WEARS PRINCESS DIANA'S ENGAGEMENT RING
Kate Middleton's engagement ring (worn by her in the above photo) belonged to the late Diana, Princess of Wales. The Independent, UK, reported on Nov 16, 2010: "Prince William has given Kate Middleton his mother's engagement ring, it emerged tonight... The Prince proposed with the blue sapphire and diamond ring that his father, the Prince of Wales, gave to Diana, Princess of Wales, in February 1981... He said today: 'As you may have recognised, it's my mother's engagement ring, so of course it's very special to me and Kate's very special to me now as well, and it's only right the two are put together... It was my way of making sure my mother didn't miss out on today, and the excitement and the fact that we're going to spend the rest of our lives together.'... Diana chose the ring, which cost £28,000 at the time, from a selection presented to her by jewellers Garrard."

Tell-a-friend
Posted on Nov 19, 2010

~~~

We make your photographs 'picture perfect'
Remember, quick photo editing is free.

Submit assignment / enquiry here. All e-mails are attended to promptly. If the job falls in the 'free' category it will be completed and e-mailed back to you. Or you will receive an estimate, along with payment terms and instructions. Work will be started upon receiving confirmation. Complete privacy is guaranteed. Samples seen on this website are examples created using stock photographs.

Please do not use this free service for commercial work.

~~~

T E L L - A - F R I E N D