Professional photo editing service for photographers
A professional photo editing service can be a life-saver because if you are a photographer editing photographs by yourself. You could actually be short-changing yourself in the long term. Photo editing and retouching can be very time consuming and sometimes  can limit the number of customers you can work with. Outsource your editing jobs to FPE Photo Editing & Retouching Services, so you can take on more work.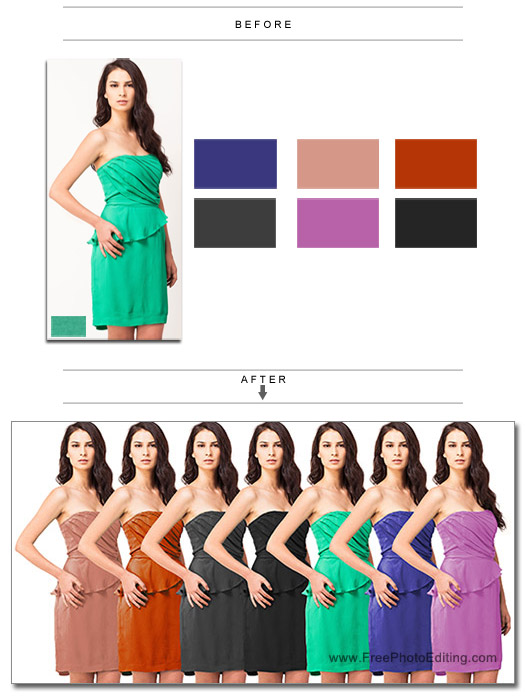 Change color with photo editing
Using a professional photo editing service is vital to a photographer's work flow
Not being able to get the desired results can get quite tiresome when one is learning the ropes to become a consummate photographer. Under the circumstances, you either blame the unavailability of necessary resources like Photoshop & Lightroom programs or your lack of expertise in using them effectively to achieve the desired result. Surely, this expertise cannot be acquired in couple of days.
However, there is a strong possibility that you land up with an assignment that requires top class retouching work to make the images look professional. Alternatively, you may be offered a job to satisfy a demanding customer and despite being equipped with adequate resources, you fail to produce the high-quality results that the customer expects. Then there are times when one is inundated with numerous photo editing projects when suddenly the client decides to push the deadline forward or the computer catches a bug or worse still one of our employees decides to move on without any notice.
Familiar scenarios all these, aren't they? Well, that's precisely the reason we offer our customers a special express service designed to meet the requirements of any of your customer in a short time without compromising on the quality of work in any way whatsoever.
Learn how our professional photo editing services work for photographers
Free services
- If your photo editing order falls under our FREE SERVICES category, then please send an e-mail to info@freephotoediting.com, explaining what you want done in the photo. Remember to attach the photograph that needs to be fixed.
- Allow a week to get your edited photo back. Please send no more than one photo for free work. (This service is provided by human editors, not an automated program.)
Paid services
- Please send an e-mail to info@freephotoediting.com, explaining what you want done. For example, complete face retouch, exposure correction, HDR effect, retro look, weight loss etc. Such information is vital to ensure the quality of the retouch services. Remember to attach the photographs that need to be fixed.
- We will evaluate your requirements in relation to the photo(s) and e-mail you a photo editing quotation, as well as a time schedule.
- You will make payment.
- The retouch / edit will be completed as per the schedule and e-mailed to you.
- You will be pleased with the output. If you want anything tweaked, just tell us what and it will be done. Your satisfaction is guaranteed.
What is the expected turnaround time of a photo editing order
It generally depends on the quantity of work, the extras needed, but does not extend beyond five days. Please remember if you order several pictures in the same order you will save more compared to many orders of few images.
The photo editing services we are best known for
Photo retouching
We undertake basic photo enhancements that include removal of blemishes, spots, wrinkles, braces, and eye bags from the face and the body. In addition, through the process of photo retouching, smoothing of skin whitening and fixing of teeth issues, stray hair removal, tattoo removal, lip moistening and make-up correction and other similar corrections can also be accomplished satisfactorily.
Figure correction & Body slimming
This service offers weight reduction, legs elongation, tummy concealment, breasts enlargement, facial shape correction, and addition of muscles or six-pack.
Background removal
Our image editing services can expertly remove unwanted objects or people or even insert any missing objects or people from the photo, and make the photo look natural in spite of that. Even the background in a photo can be changed completely to fit a customer's requirements. The color of the sky can also be altered to match the mood of the picture.
Color change
Changing the color of any object in the picture, such as a dress, or an item of jewelry, hair color, car, lipstick or any other make-up item or a furniture item, well nearly anything. Moreover, we assure you that the image will not look as if it was 'worked on'.
Some of the photography categories we serve
Portraits & Headshots
In our portrait photography editing service, we provide specialized enhancements that are integral to this style. Apart from the basic modifications like exposure correction, color correction, and contrast adjustments, we also offer specific types of corrections that include body slimming, skin smoothing and softening among others. Feature improvements like enhancing eye color, removing of blemishes and wrinkles removal, and even color changes for clothing are also part of this service.
Nature & Landscape photos
Editing landscape pictures can pose a few problems as you cannot be certain of the kind of edit that you require finally. Reason being that these photographs simultaneously grant one a lot of freedom and also present a challenge one's creativity. However, our expert team is adept at transforming your landscape photos to something resembling a work of art owing to their vast experience in this area. Some standard edits in this category include correcting the lighting, the color and contrast to make the images look as natural as possible.
For more advanced edits to your pictures, our highly-skilled editing team can achieve even the most demanding changes to satisfy any customer. These include removing unwanted objects or people from the picture or even adding missing people to a photo, adjusting the hues of the sky to match it to the mood or manual photo blending. This service allows you the creative freedom to enhance your original image in a manner that the finished product may well compare with an object d'art.
Wedding photos
Being a wedding photographer is demanding. Not only does it involve being on your toes clicking away ensuring that you don't miss a single moment but is followed by scouring through thousands of pictures to choose the best ones for editing. Our team of editors specializing in wedding photography will take care of this onerous task for you by choosing the best pictures and editing them to match your style and making sure that your customers are pleased with the result. This service includes: removing blemishes, improving skin tone, high-key or low-key effects, black and white images, and split toning to name just a few.
Real Estate & Property photos
There is no doubt that the pictures of a property are generally the first thing about a property that a prospective buyer sees. And going by the increase in the number of people who check properties online before buying, these pictures become the single most important thing to attract buyers. Therefore, these pictures need to be nothing less than perfect to make a lasting impression on the client. They should present the property in a manner that all the assets of the property are highlighted. Our real estate editors can be of much help here.
One of the most common issues with real estate photos are related to white balance and exposure. We will fix that and also enhance the images that are underexposed or overexposed and even correct issues relating to color balance. We will even carry out distortion removal and window scene replacements. Whether you a realtor/broker or real estate photographer, just contact us with your requirements and we assure you that you and your clients with be more than pleased with our representation of your property.
High volume & e-comm photos
If you are in the business of selling products online, then the photos of your products have to be nothing short of perfect. That's because your business solely depends on customers evaluating the product by the image they see. So basically, the pictures of your product that you upload on the website make or break a deal for you. Our proficient photo editors will work on your images and produce such professional pictures of the products that will surely help your customers to choose the product displayed.
Standard edits will involve things such as recovering highlight and shadow details and correcting the color tones to achieve 100% accuracy. As part of advance edits, objects can be moved from their original background to another one of your choosing and removing any flaws or defects from the products heighten their impact or appearance. Whatever type of online business you have, small or large scale, our photo editors are highly experienced and will not disappoint you.
Make us your photo editing vendor of choice
Why should you choose our photo editing services? Here are a few good reasons.
Your privacy is guaranteed
Privacy of your images is one of our prime objectives. We assure you that on receipt of your images we won't share, publish or make them accessible to a third party without your consent. Both the original and the edited images will remain secure with us at all times.
The pictures we edit are 100% confidential and we do not share them on our website, or on social media or any other platform.
Customer satisfaction is guaranteed
Our customers' satisfaction is of paramount importance to us. We will carry out free revisions if need be, although this is most unlikely. We want our customers to be completely satisfied with work.
Do you have high volume photo editing work?
We offer discounts on big orders – especially orders bigger than 10 images. If you want to work together with us as a team continuously or are expecting a very big order you can email us at info@freephotoediting.com to negotiate a special discount for your photography business.

View samples
Submit assignment
Before & After Sample 1
I have made two background change options below the original photo.
Before & After Sample 2
Merging two faces into one photo seamlessly.
REQUEST A QUOTATION
Submit your photos for assessment and pricing
(no obligation)


We make your photographs picture perfect.
Click here to submit assignment or ask questions. Read FAQ to see if the job can be done free. For 'Paid' jobs you will receive a price estimate. Complete privacy is guaranteed. 'Quick' photo editing is free.