Samples >> Automobile photo retouching
Automobile photo editing and retouching
Change your car colour... restore an old classic... change car photo background to 'take' your vehicle to exotic locations... Add to your automotive experience with a little photo editing!
Change colour in photo online
"Please change the body colour of this Ferrari car to flaming red."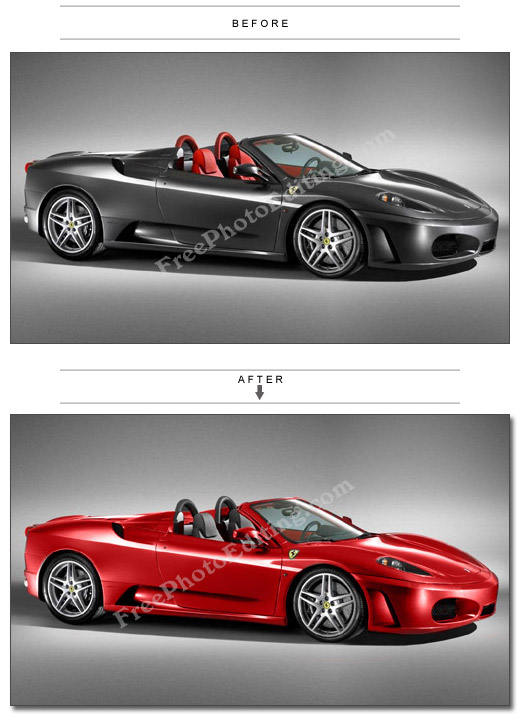 Convert to new car color with photo editing
View other photo editing examples of color change in images

~~~~~~~~~~~~~~~~~~~~~~
Recolor photos photo editor services
"I'm about to fool around with the paint work on my 1957 Chevrolet 210. Would you change the colour to a very shocking pink please. That way I can pre-test it with my wife, before really going ahead. Change only the blue areas. Leave the chrome as it is. And brighten up the surroundings a bit. Thanks."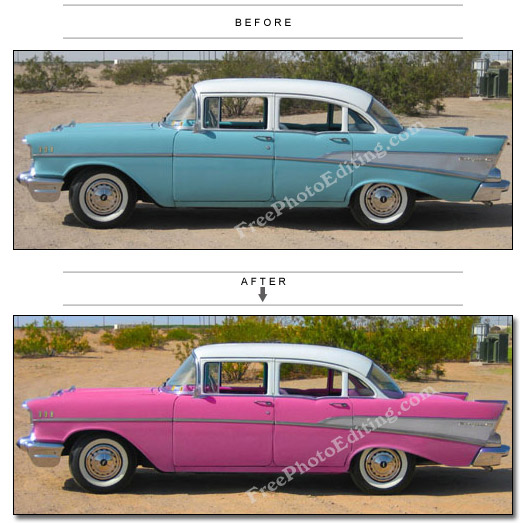 Colour change for vintage car with photo editing
View examples of special effects in photos
~~~~~~~~~~~~~~~~~~~~~~
Recolor image editing services
"I am about to acquire such an Ascari race car. Can you help me visualise it in a couple of different colours — unusual colours (for cars, that is)."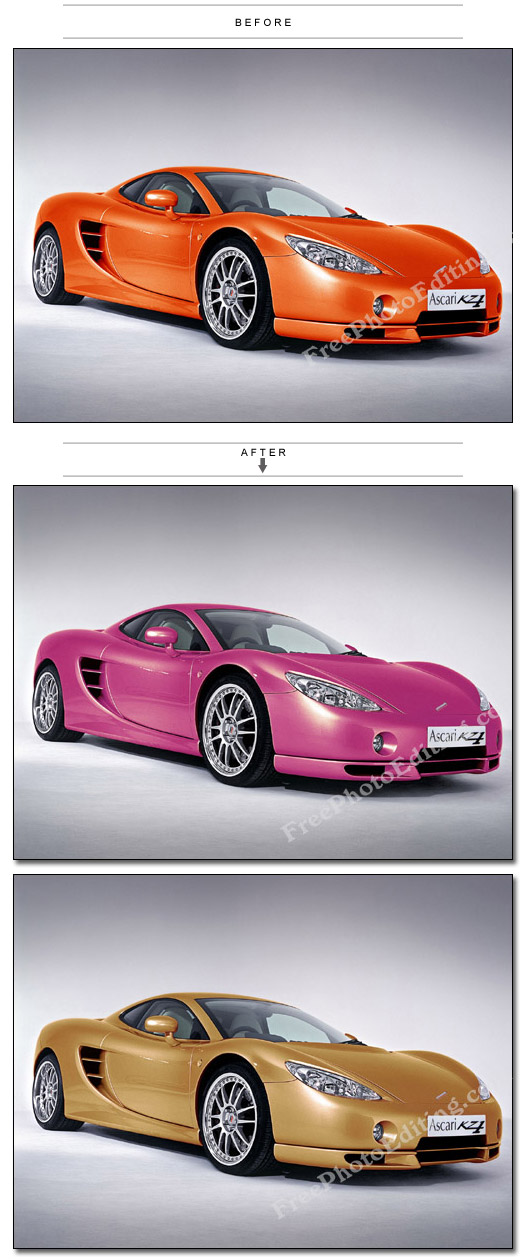 Color variations of car color with image editing
View image editing examples of photo colorization
~~~~~~~~~~~~~~~~~~~~~~
Add people to a photo
"Just look at this Dodge beauty I spied. Can you put us both there next to it please."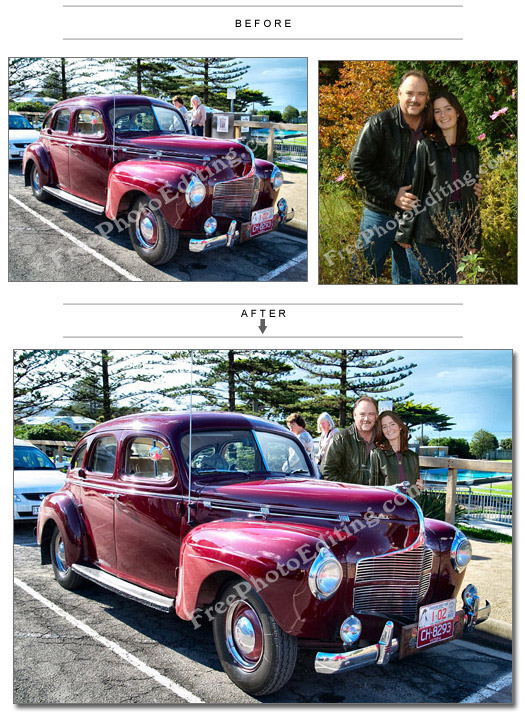 Photo editing services for old car hobbyists
View examples of adding people to photos by merging images.
~~~~~~~~~~~~~~~~~~~~~~
Photo manipulation to two images for dramatic scene
"I am sending you two photographs. Photo 1 is that of a racing car taking a curve on the race track. Photo 2 is that of a speed-boat at high speed on the sea waters. What I want is this: I want you to take the car off the race track and plant it in the sea photo, to make it look as though it is emerging from the sea. Keep the water spray around the car for that dramatic feeling of high speed. Please get the boat completely out of the way."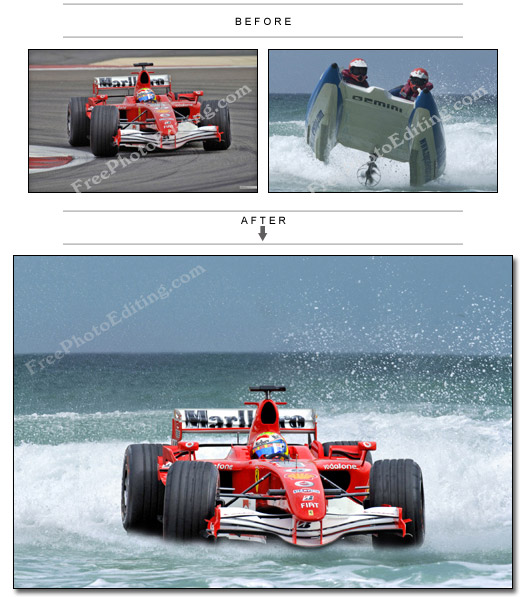 Photo manipulating services to create adventure photos
View examples of changing photo background
~~~~~~~~~~~~~~~~~~~~~~
Exposure correction in automobile photo
"Aug 2009: I am reviewing the BMW Mini E electric car (experimental electric-vehicle conversion) which has been leased by 450 drivers in the United States. This photo will accompany the write-up. It's a great blue, but in my opinion the bales of hay seen in the background reduces the focus on the car. Can you lighten the surroundings a bit, to the advantage of the car. But do not alter the colour of the car at all please."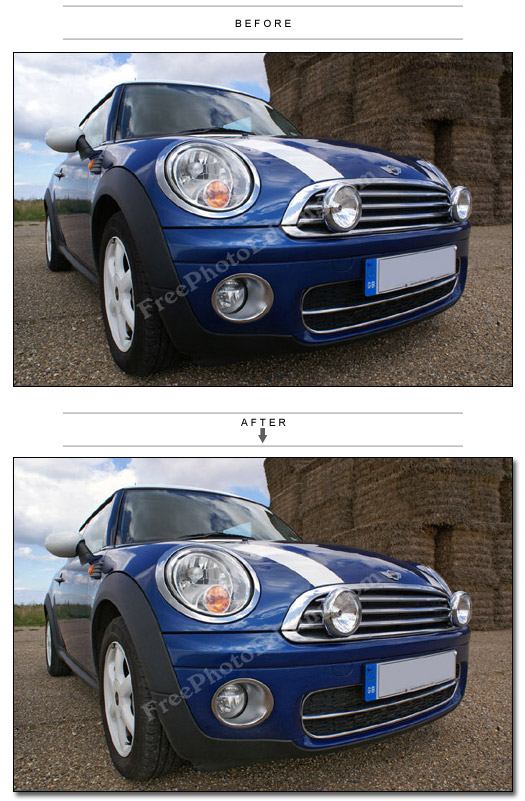 Exposure correction and enhancement of car photographs
View other examples of exposure correction
~~~~~~~~~~~~~~~~~~~~~~
Removal of unwanted / distracting elements in photo
"This 1965 Harley Davidson golf car brochure (or catalog, or leaflet, or whatever) is a great find! But it has this jarring dealer stamp across the cover. Please clean up this stamp, and just leave the sky there."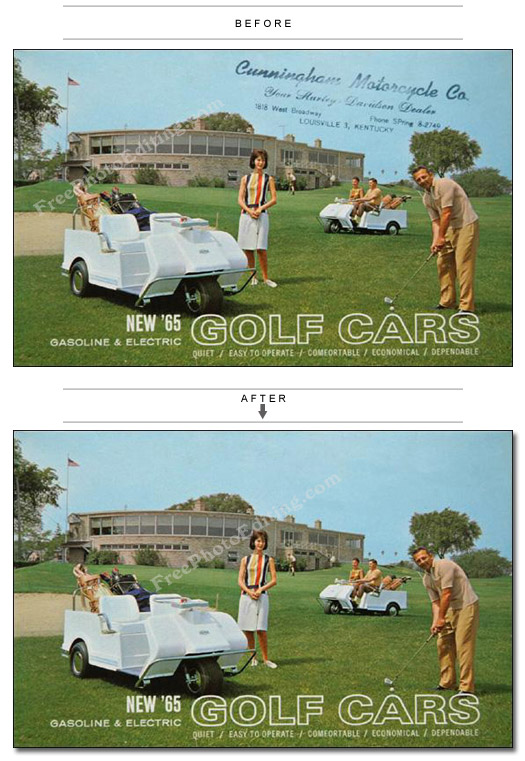 Date stamp removal / text removal in photographs
View examples of vintage photo restoration
~~~~~~~~~~~~~~~~~~~~~~
Add digital frame around photo
"Isn't that a gorgeous woman on a 1951 Motoleggera Ducati 60cc motorcycle! Would you add a simple black frame to the poster please. Nice addition to my garage."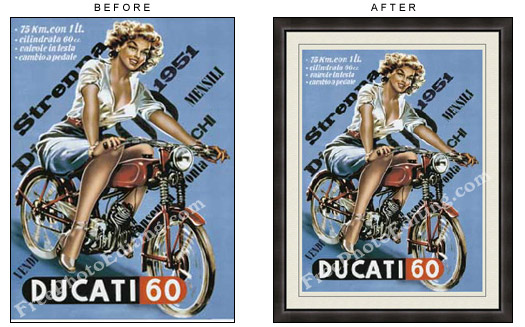 Photo editing of vintage auto memorabilia
View another example of adding digital frame to a photograph
~~~~~~~~~~~~~~~~~~~~~~
Colour correction in automotive photos to match original
"The colours are all wrong in this vintage Jeep photograph. Please correct the colours — the Jeep should be the typical U.S. army olive green colour. The carpeting at the show was not so red — in fact it was more maroon than red. Please change that as well. And make the canopy cream / off-white and the seats a very very light green."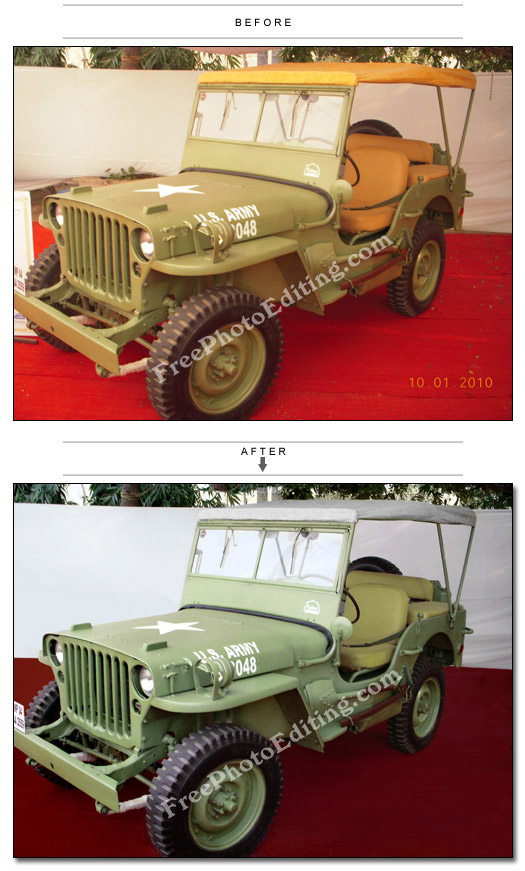 Automobile photo restored to original colors with photo editing
View other examples of color correction in photos
Remember that customer photographs ('before' and 'after') are NEVER used as examples or samples. These belong solely to the customers who ordered them (via 'free' or 'paid' jobs). Complete privacy is guaranteed.
REQUEST A QUOTATION
Submit your photos for assessment and pricing
(no obligation)


We make your photographs picture perfect.
Click here to submit assignment or ask questions. Read FAQ to see if the job can be done free. For 'Paid' jobs you will receive a price estimate. Complete privacy is guaranteed. 'Quick' photo editing is free.