| | | |
| --- | --- | --- |
| | 97 | |
SHARE ON >>
Photo editing example: Pose with the U.S. president's Cadillac limousine
Photo editing request (example): "Simon Cowell has expressed an urgent desire to own a high security limousine just like the one Barack Obama used on his U.K. tour in May 2011. While 'The Beast' (as the Cadillac One is also known) might take months, if not years to complete, let's go ahead and create a picture of Simon Cowell alongside his dream machine."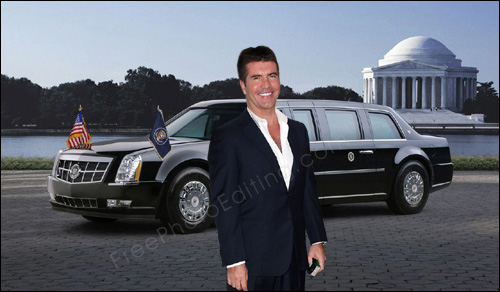 X-Factor boss Simon Cowell borrows Barack Obama's bomb-proof 'Beast' for a day!
Before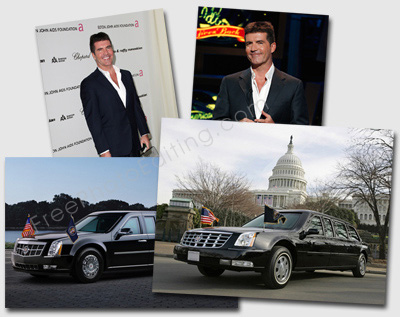 We know that Simon Cowell is obsessed with cars.
Now he wants the U.S. presidential Cadillac One
After
| | | |
| --- | --- | --- |
| | 97 | |
SHARE ON >>

Tell-a-friend
Posted on May 28, 2011

~~~

We make your photographs 'picture perfect'
Remember, quick photo editing is free.

Submit assignment / enquiry here. All e-mails are attended to promptly. If the job falls in the 'free' category it will be completed and e-mailed back to you. Or you will receive an estimate, along with payment terms and instructions. Work will be started upon receiving confirmation. Complete privacy is guaranteed. Samples seen on this website are examples created using stock photographs.

Please do not use this free service for commercial work.

~~~

T E L L - A - F R I E N D