| | | |
| --- | --- | --- |
| | 07 | |
Photo editing example: Straighten crooked teeth, virtual dentistry

Photo editing request (example): "Must be a good reason why Jewel Kilcher has preserved her crooked teeth. Lends an unconvetional charm to her personality; adds 'character' to her smile? Celebrities tend to take to cosmetic surgery to fix imperfections. But it looks like they prefer to leave some aberrations just the way they are. In fact they seem to revel in their 'differentness'... Please straighten Jewel Kilcher's teeth so we can see if she would look as charming with a normal mouth..."
Before & After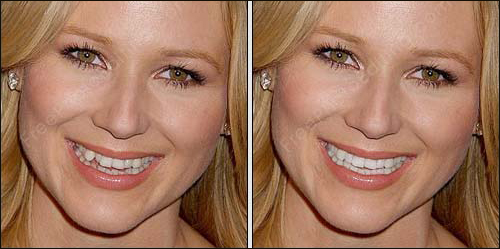 Crooked teeth correction: Before & after




Photo retouching for digital teeth repair
| | | |
| --- | --- | --- |
| | 07 | |

Tell-a-friend
Posted on May 18, 2012

~~~

We make your photographs picture perfect. 'Quick' photo editing is free.

Click here to submit assignment or ask questions. If the job falls in the 'free' category it will be completed and e-mailed back to you. Or you will receive an estimate, along with payment terms and instructions. Complete privacy is guaranteed. Samples seen on this website are examples created using stock photographs.

Please do not use this free service for commercial work.

~~~

T E L L - A - F R I E N D