| | | |
| --- | --- | --- |
| | 84 | |
SHARE ON >>
Create memorable photos by placing subjects against iconic backgrounds
Photo editing request (example): "Hi, I'm a 'Save the Hollywood sign' enthusiast and I would like to congratulate Hugh Kefner on his engagement with Crystal Harris on Dec 24. But for Hugh Hekner's generosity (once again in April 2010), Los Angeles' most recognisable monument would have become a thing of the past. He once remarked, 'This is our Eiffel Tower'! So, here's to the playboy — stay healthy, be happy, and have a great life."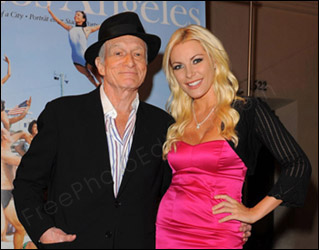 Playboy publisher Kugh Kefner (84)
and 'Playmate' Crystal Harris (24) were enagaged on Dec 24, 2010
Before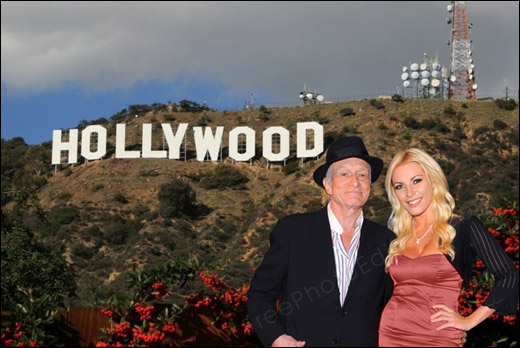 Hugh Kefner & fiancee Cyrstal Harris pay homage to the Hollywood's most enduring icon
After
| | | |
| --- | --- | --- |
| | 84 | |
SHARE ON >>
For those of you who don't know, the iconic Hollywood sign was in real danger of destruction not very long ago. Here's the story from 'The Week':

Developers were on the verge of building giant mansions behind the "H" of the iconic Hollywood sign — until Hugh Hefner came to the rescue in April 2010. The founder of Playboy wrote a last-minute $900,000 check that capped a months-long, $12.5 million fundraising campaign by the Trust for Public Land conservation group to purchase and protect a 138-acre plot behind the sign.

"My childhood dreams and fantasies came from the movies, and the images created in Hollywood had a major influence on my life and Playboy," Hefner told the AP. In fact, this wasn't the first time he help save the sign, which he calls "Hollywood's Eiffel Tower." In 1978, Hefner hosted a charity auction at the Playboy Mansion to restore the then-dilapidated cultural landmark and create a fund for its upkeep. At the event, Andy Williams became the honorary owner of the sign's W, Alice Cooper got an O, Gene Autry an L, and Hefner himself took the Y.

Tell-a-friend
Posted on Dec 27, 2010

~~~

We make your photographs 'picture perfect'
Remember, quick photo editing is free.

Submit assignment / enquiry here. All e-mails are attended to promptly. If the job falls in the 'free' category it will be completed and e-mailed back to you. Or you will receive an estimate, along with payment terms and instructions. Work will be started upon receiving confirmation. Complete privacy is guaranteed. Samples seen on this website are examples created using stock photographs.

Please do not use this free service for commercial work.

~~~

T E L L - A - F R I E N D